March 2013 – Artist Maggie Taylor combines history and imagination to create beautiful narratives of sophisticated fantasy. From her studio in Gainesville, FL, Taylor uses an array of source material, from plastic figurines to dead insects, to construct digital collages that incite a sense of storytelling. No Ordinary Days, currently on view at Polk Museum of Art, is a survey of Taylor's work and includes 49 pigmented digital prints. This exhibition coincides with the release of the similarly titled catalogue raisonné of Taylor's works.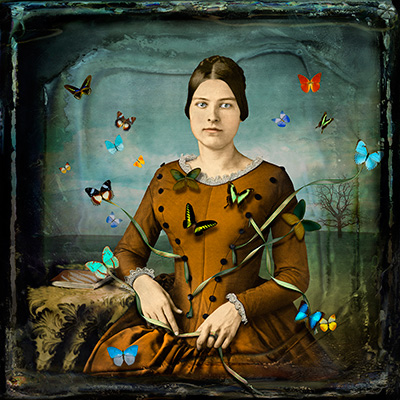 Taylor received her Bachelor's degree in philosophy from Yale University and her Master's degree in photography from the University of Florida. Her thesis portfolio as a photography student included photographs of arranged objects that could be defined as autobiographical still lifes. Taylor's discovery of the Photoshop software in the early 1990's allowed her to mature from the role of traditional photographer to the more contemporary digital artist. She quickly realized that she could use Photoshop to scan these objects she had been photographing for years and have the ability to manipulate their appearances.
Although her works include a variety of scanned material, the initial inspirations behind many of her works come from her collection of antique daguerreotypes. These forefathers to modern photographs were invented by French artist and physicist Louis-Jacques-Mandé Daguerre in the mid-19th century. Daguerreotypes were quite difficult to produce, yet quickly became popular as a means of portraiture, capturing intimate and realistic likenesses of loved ones. Due to their complicated production process, usually taking hours to produce one image, daguerreotypes were very expensive and were highly coveted items for those fortunate enough to own them. Many of the daguerreotypes that have survived their original owners depict people and experiences lost to history. Taylor gives new life to these mysterious images by digitally scanning and altering them in her prints. The people in these portraits ultimately become the protagonists in Taylor's fantastic new worlds.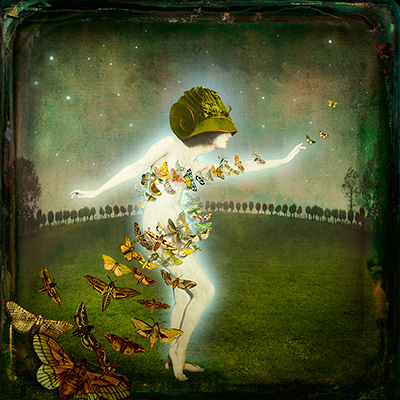 Maggie Taylor is often described as a surrealist. Yet, unlike most surrealists, Taylor never works from dreams. Her subjects and compositions always begin with a single object or image that sparks an evolution to the finished piece. Instead of working toward a preconceived composition, Taylor likes to allow the objects to narrate what story may lie within. This is not to imply that she totally separates herself from the narrative properties of her work, but as she creates she is more focused on the formal relationship between each object than the message created by their union. In literary terms, the illustration precedes and decides the plot.
No Ordinary Days also includes several works from Taylor's Alice series, which were inspired by Lewis Carroll's Alice in Wonderland. When Charles Lutwidge Dodge, more widely known by his pen name Lewis Carroll, first told of Alice's adventures in Wonderland, he did so spontaneously with the single goal of entertaining three young sisters, Lorina, Alice, and Edith Liddell, during a boat ride. With no preconceived plot, Carroll based his story on things he saw along the banks of the River Thames. Taylor visually retells Carroll's classic story in vivid color and fantastic imagery. The surrealistic tendencies of both artist and author align beautifully in Taylor's digital prints and prove to refresh the delightful nonsense found throughout Wonderland. The prints from Taylor's Alice series on display in the exhibition were generously loaned from the Samuel P. Harn Museum of Art at the University of Florida.

Adam Justice
Curator, Polk Museum of Art